Two posts ago I speculated on moving the seat forward and putting the gas tank behind the seat. Well without making a custom tank or severely cutting the body, or both it won't work. I just spent an hour climbing in and out of the bare body with the steering wheel. If I put the steering wheel inside the passenger compartment on the normal side of the dashboard even with the steering wheel in my chest there's no room for a commercial fuel cell between my butt and the back of the car, except the 3 gallon tank , which would be great for racing, but pretty crappy for driving to and from the races. Especially with E85 which isn't common. There is room for a big tank behind the driver's seat, but it would have to be built custom for the space. I roughly estimated that a 30 gallon tank would fit with room to spare. If I got really crazy it would be over 40 gallons, but that would require basically making the inside of the body part of the gas tank, which like I wrote, would be really crazy.
Another alternative is to make a race-car like cockpit like this Lotus 49.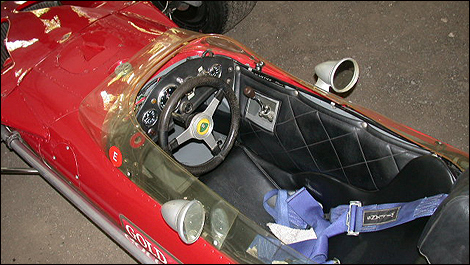 Basically the cowl would be cut away where the windshield is on the Lotus in the picture, and my head will be just back of the original location of the dash. There's lots of room to play with out front once the gas tank(s) is(are) gone, but almost none behind the body because of the engine and its systems. The bad part of this would be my feet would be right up against the radiator. The good part would be there would be room for a 32 gallon fuel cell behind me which would mean 700 miles between highway fill ups with some cushion for crossing Wyoming or west TX running E85. How often I would be doing that is unknown. The only thing I could think of would be the Goodguys Shootout for the year-end champion in autocross held in AZ.
Well I have about run out of words but not ideas which continue to run through my brain but not in a complete enough form that I can post them to this blog.